If you have a sofa type in mind that would suit your space, the obvious next step is for you to choose the sofa materials and upholstery fabric. While there are various types of fabric available that suit a specific need, you should go for the fabric based on your sensibilities and the space you are looking to furnish. This could vary widely depending on the looks you want (Glossy or Luxurious or Elegant) or the level of maintenance you prefer (Ease of use, resistance to stains, ease of cleaning).
In this buying guide, we will cover when and why you should go for a specific fabric be it natural and synthetic fabrics. Choosing the right fabric will ensure that you make the right impression or uplift the overall aesthetics of your space or make it easy for you to maintain or build a sofa that lasts generations.Will your sofa fulfill all your needs and expectations? The answer lies in the upholstery you choose as much as it does in the material and structure of the sofa.To make a wise choice, it is important to understand attributes of all available upholsteries that will suit your needs.
COTTON
Cotton is one of the most durable fabrics apt for those wanting the soft feel. With its comfort and stability, cotton fabrics bring a softer feel to your furniture. If you want a formal yet modern look then a cotton upholstered sofa is your best bet. However, the soft and delicate nature of the fabric also makes it unsuitable for heavy daily use, since it tends to wear out easily. It's not a choice of fabric where the sunlight hits directly on the furniture.
Pros:
Cotton upholstered furniture boasts a soft texture, which makes it extremely comfortable.
Breathable- Heat & moisture is absorbed.
Washable
Cons:
Wrinkles easily.
Susceptible to fading and weakening in direct sunlight.
It can absorb spills, stains and even stinks quickly.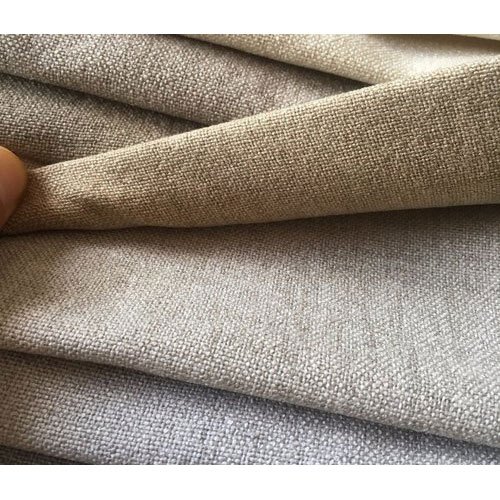 LINEN
Linen, also a natural fibre, is the earthiest and popular fabric in textile for sofa fabrics. It is very smooth and soft to the touch which makes it a super comfortable material to sit on. If you want your living room to look casual and laid back yet stylish and graceful, you may want to consider opting for linen upholstery. Durability is a factor to consider before you choose them as it might not stand up well to heavy everyday use. It gets stained very easily and the fibers will weaken if exposed to direct sunlight.
Pros:
Easy to clean and maintain
Relatively sustainable and eco-friendly upholstery fabric
Affordable
Cons:
Wrinkle easily.
Weakens if exposed to direct sunlight
Non resistant to stains and smells.
Absorbs liquid spills almost immediately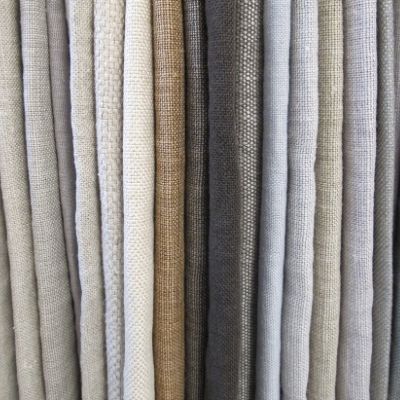 SYNTHETIC FABRICS
LEATHERETTE
Leatherette or artificial leather or faux leather upholstery are trendy and modern. It looks brilliant and adds a touch of elegance to your home. The right faux leather sofa set along with a perfect décor will make your space look rugged yet sophisticated.
Pros:
Environment-friendly because no animals are harmed to produce them
Quite durable and lasts longer with careful use
Gives the leather look at a better price
Doesn't fade when exposed to UV light like leather
Cons:
Doesn't develop the same luster or patina as real leather.
Doesn't have the smell of 100% real leather, which some consumers actually prefer.
Gets easily torn or punctured through misuse.
Not breathable — especially PVC based letherette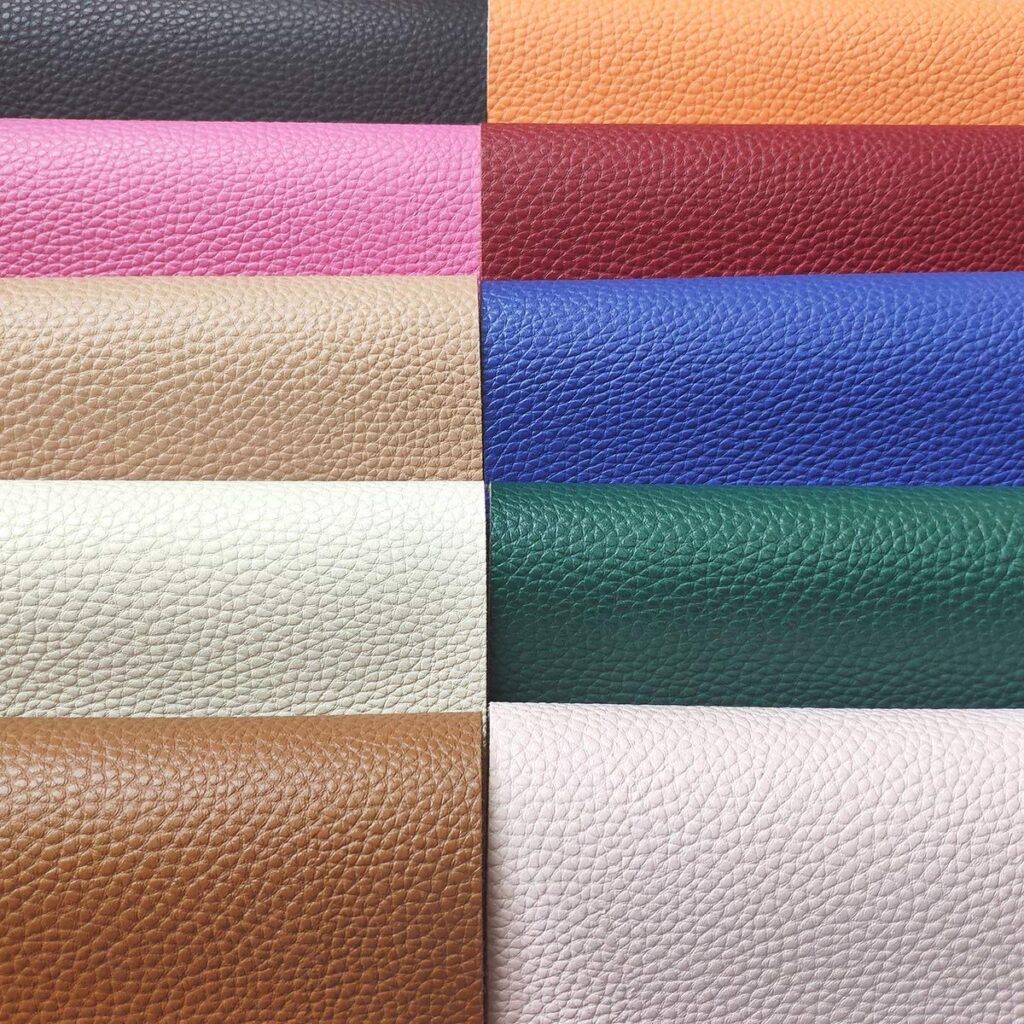 SUEDE
Suede is stylish and adds an instant wow factor to your space. If you are thinking of a luxurious and classy space then this is the fabric type you have to go with! In addition to being low maintenance, they provide the soft touch to the fabric which some people prefer over leather.
Pros:
Looks like leather and is less expensive.
Softer than leather, comfortable.
Cons:
Soft and prone to damage
Absorbs water
Stains easily and needs a protective covering
Less durable than leather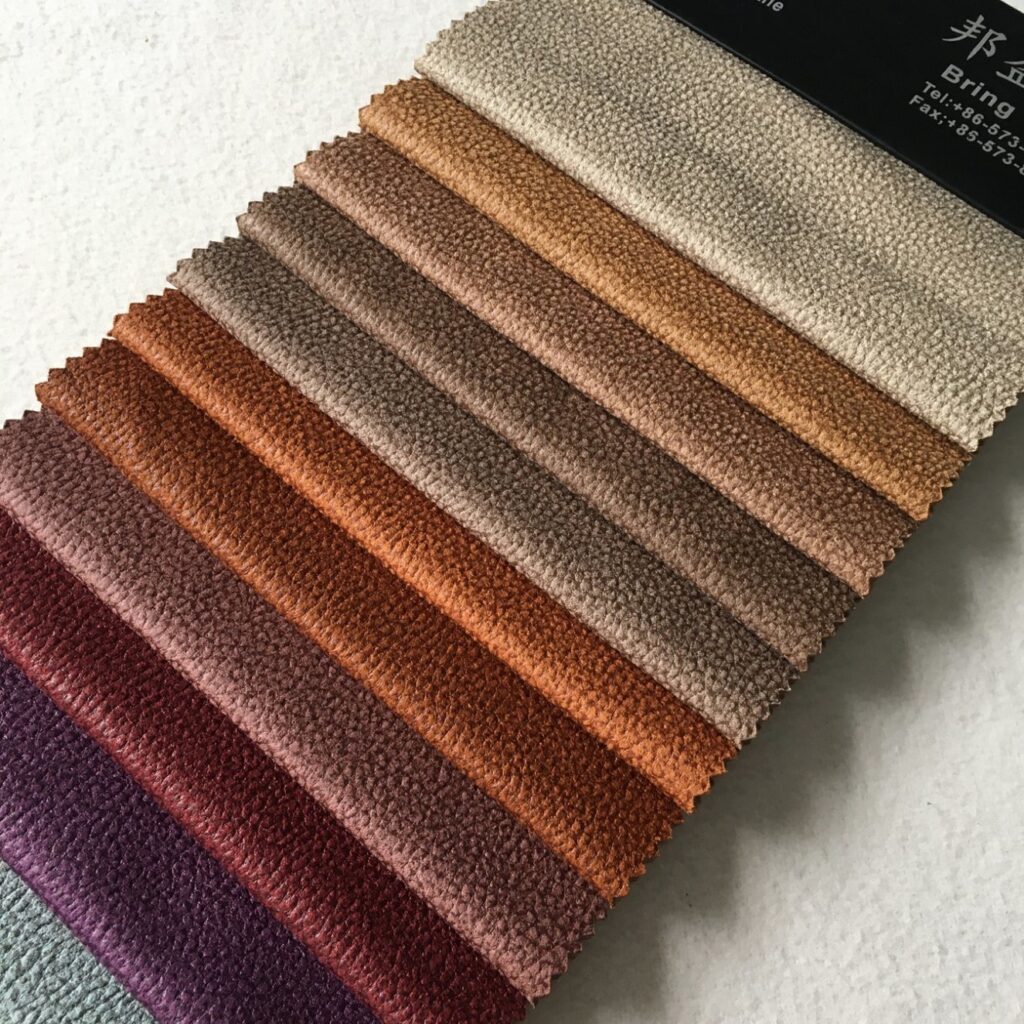 POLYESTER
One of the primary reasons why you should consider polyester upholstery for your couch is that it will add another layer of stain resistance to your sofa. It is available in various colors and textures and therefore you can find polyester upholstered furniture that can blend in with any kind of interior theme. It is extremely easy to clean polyester upholstered furniture and it dries very quickly in case of spills or washing.
Pros:
Soft to touch
Comfortable to use
Easy to clean in case of Water and beverage spills
Cons:
Not recommended for spaces like kitchens and dining rooms as they absorb oils and grease and hard to clean
Vulnerable to harsh weather conditions and heat
Flammable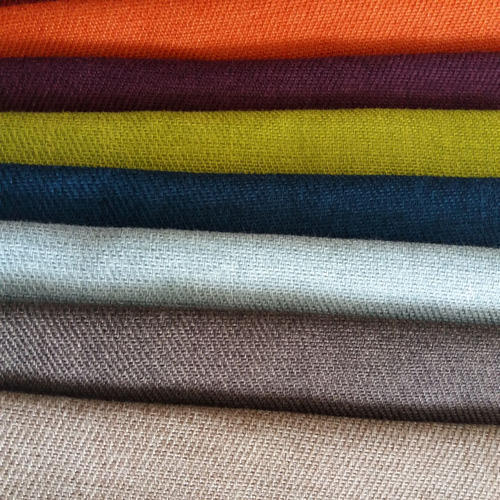 VELVET
Velvet is a luxurious sofa fabric which is elegant and the most attractive fabric. Not only is velvet a timeless material, it also adds a lot of warmth and texture to any interior. It brings a chic aesthetic infused with rich textures and is the perfect fabric to layer all over any glam living room. It is only suitable for lush furniture that is meant for formal use although it stands out for its comfort, look, texture and color options.
Pros:
Lasts for several years if treated properly.
Doesn't fade away with time.
Aesthetically pleasing
Soft to touch
Ease of cleaning food and mud stains
Cons:
Attracts pet hair and dust.
If exposed to direct sunlight, the fiber can weaken
Needs regular cleaning as it attracts a lot of dust.
Absorb liquid spills quickly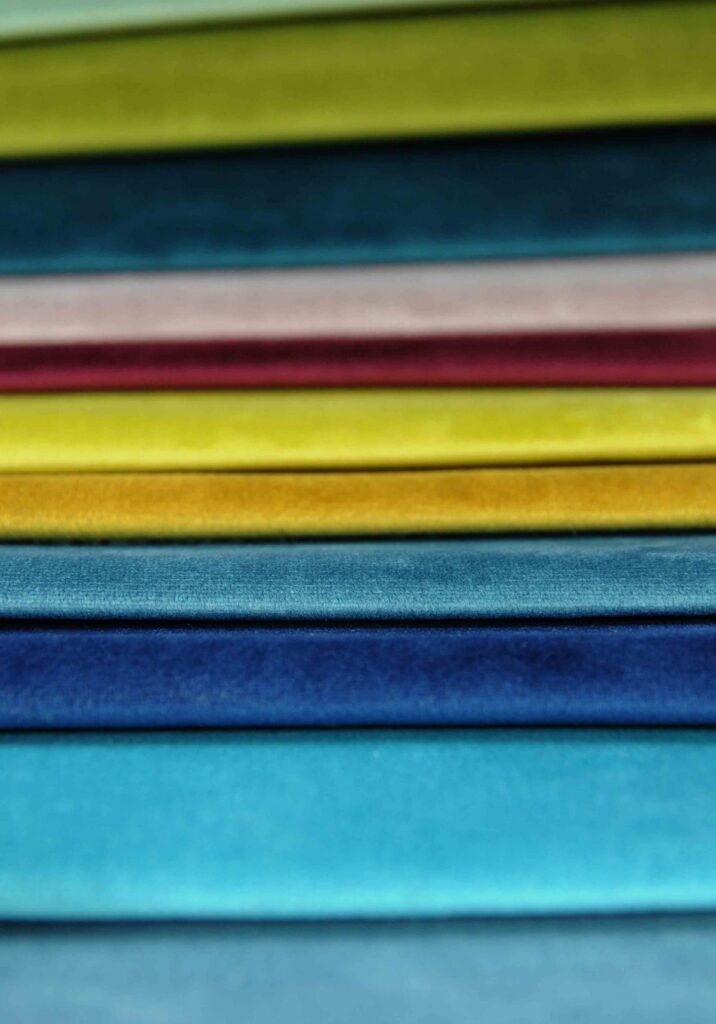 All the above fabrics have their own feel and finish. Velvets give the luxury finish and soft touch, leatherette material are best for their finish and ease of maintenance, Suedes are known for their finish as well the feel factor and the natural fabrics i.e cotton and linen are highly preferred as they don't generate heat and are suited for all weather conditions
Need more advice on choosing the right fabric type for your sofa? We will assist you with the best options for your sofa. Simply reach us on WhatsApp https://wa.me/message/PLZMIMW6BDGOL1 to book an appointment.
To read all our previous advice, please click here